Supervillains
Par Antoine Joie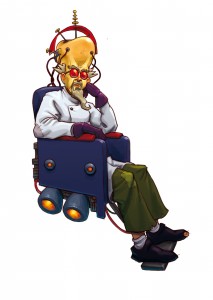 NAME: DOCTOR SHNAPENN
AGE: Unknown
GENDER: M
ORIGIN: Debatable
OCCUPATIONS: Inventor / Evil genius
STRENGHTS: Extreme intelligence / Elite handyman
WEAKNESSES: No ethics / Allergic to social life

DESCRIPTION: Burning with an absolute passion for Science, Dr. Shnapenn is also impervious to ethics. He's not a bad man though, but his methods are often extremely dangerous. As a result, Shnapenn commits heinous crimes against humanity on a regular basis.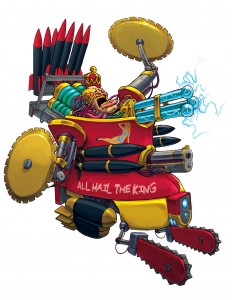 NAME: TRUNK / TRUNK MAN
AGE: Rebuilt since 1996
GENDER: M
ORIGIN: Canada
OCCUPATIONS: Unemployed / Terrorist
STRENGHTS: Immoderate weaponry / Full armor
WEAKNESSES: Chronic insomnia / Illiteracy

DESCRIPTION: Crippled by a cruel war, Trunk was saved by Dr. Shnapenn and grafted into a basic robotic framework. Back then, his upper limbs were replaced by a pair of powerful loudspeakers, but he's so heavily customized today that calling him a mobile weapon platform is an understatement. Illiterate, renegade and terrorist, Trunk has one single desire: to watch the world burn.
NAME: VEGETO
AGE: Unknown
GENDER: Vegetable
ORIGIN: Artificial
OCCUPATIONS: Tactician / Supreme Commander
STRENGHTS: Vegetable mercenary army / Strong discipline
WEAKNESSES: Excessive pride / Flammable

DESCRIPTION: Supreme Commander of the Vegetable Forces, Vegeto is the result of some top-secret genetic experiment involving broccoli DNA and a femur from Napoleon III. Soon after his spectacular escape, Vegeto rallied a vast majority of angry vegetables under his banner. Today, his Vegetable Forces are still considered a serious threat against global security.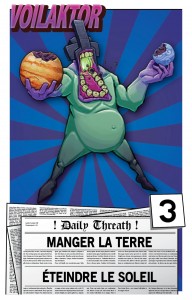 NAME: MILKYOR
AGE: 28 billion years
GENDER: N/A
ORIGIN: Nebula N-47T31
OCCUPATION: Planet eater
STRENGHTS: Gigantic magnitude/ Invulnerability
WEAKNESSES: Infinite appetite / Extremely slow movement

DESCRIPTION: Born inside a nebula, Milkyor is made of billions of celestial bodies all crunched together for 500 billion years and pulverized by their common gravity. The gigantic being born from this fusion eats planets and pisses on stars since an estimated 28 billion years. How long will Earth be safe from this insatiable God?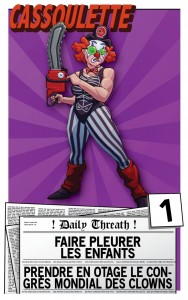 NAME: CASSOULETTE
AGE: 29
GENDER: F
ORIGIN: Pittsburg
OCCUPATIONS: Sad clown / Acrobat
STRENGHTS: Strong focus / Agility
WEAKNESSES : Frequent bragging / Depression

DESCRIPTION : A sad clown with a chainsaw. Cassoulette is well-known by the police since she was banished from the entire country's school network. Traumatized by her difficult childhood, Cassoulette hates all happy children, working day and night to make them cry.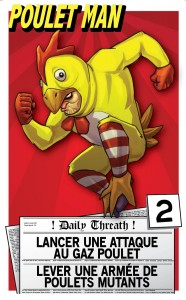 NAME: CHICKEN MAN
AGE: 29
GENDER: M
ORIGIN: St Slang
OCCUPATIONS: Mascot / Hooligan
STRENGHTS: Solid skull / Fearless
WEAKNESSES: Limited intelligence / Zipper on the back


DESCRIPTION: A criminal chicken-lover since early childhood, Chicken Man is a dangerous psychopath, terrorizing the countryside with his murdering gang of evil mascots. His love for violence and his numerous contacts in the fried chicken industry make him a dangerous adversary.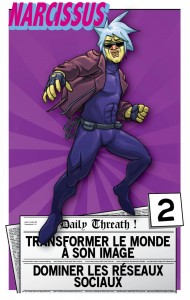 NAME: NARCISSUS
AGE: 32
GENDER: Alpha M
ORIGIN: Japan
OCCUPATIONS: Designer / Relationist
STRENGHTS: Epic charisma / Powerful friends
WEAKNESSES: Impatience / Low pain tolerance 

DESCRIPTION: Japanese designer from a high-class family renowned for his skin-tight creations, Narcissus views himself as the 8th Wonder of the World. Impervious to other people's sufferings and desires, he dreams of a human race made of eight billions perfect copies of himself. Narcissus spins a web in the shadows of social media, bent on dominating the world before his precious youth flies away.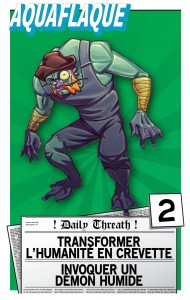 NAME: PUDDLEWET
AGE: 58 or so
GENDER: M
ORIGIN: New Orleans
OCCUPATIONS: Fisherman / Volunteer bogeyman
STRENGHTS: Aquatic respiration / Occult knowledge
WEAKNESSES: Moisture dependency / Putrid stench


DESCRIPTION: Puddlewet is a grumpy fish-man of unknown origins. Nobody knows if he's a man turned fish or a fish turned man, but everyone agrees on his putrid stench, described by some as "a mix of putrefied trout and baby diarrhea". Puddlewet knows some basic dark magic, which he uses without moderation to terrorize widows and orphans alike.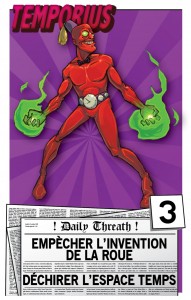 NAME: TEMPORIUS
AGE: Relative
GENDER: M?
ORIGIN: Beyond Space and Time
OCCUPATION: Erasing civilizations 
STRENGHTS: Time control / Unlimited energy
WEAKNESSES: Insanity / Sporadic memory 

DESCRIPTION: Fallen offspring of Time and Space, Temporius is born somewhere between and above dimensions. He's filled with much more cosmic energy than his mind could endure and consequently went mad on the second he was born. Since this dreadful day, Temporius travels through time and space, erasing entire civilizations, without ever appeasing his own murderous madness.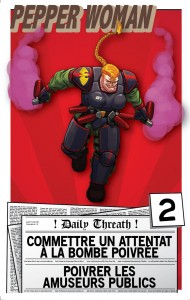 NAME: PEPPER WOMAN
AGE: 37
GENDER: F
ORIGIN: Montreal
OCCUPATIONS: Mercenary / Public menace
STRENGHTS: Military training / Endless zeal
WEAKNESSES: Temper tantrums / Speech difficulties


DESCRIPTION: Civil servant playing her role way too seriously, Pepper Woman was fired following her extreme lack of judgement on multiple occasions. She soon turned rogue and became a mercenary, dedicating her life to making yours miserable.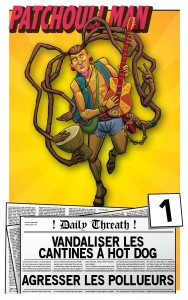 NAME: PATCHOULI MAN
AGE: 23
GENDER: M
ORIGIN: Toronto
OCCUPATIONS: Hippie / Musician
STRENGHTS: Innocence / Living hair
WEAKNESSES: Dogmatism / Drug addiction

DESCRIPTION : Patchouli Man traveled two weeks in India and, since this day, he wants to change the world at all costs. His living hair is a mystery best left unsolved. Even considering the strictly limited range of his criminal actions, Patchouli Man is nonetheless considered a serious threat to millionaires' safety.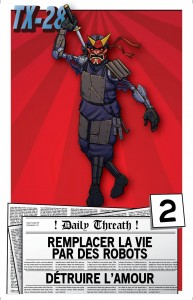 NAME: TX-28
AGE: Unknown
GENDER: Robot
ORIGIN: Silicon Valley
OCCUPATIONS: Ninja robot / Robot ninja
STRENGHTS: Surgical exactitude / Physical resistance
WEAKNESSES: Black and white vision / Frequent recharge required

DESCRIPTION: TX-28 is a robot of unknown origins. Is it the product of a top-secret experiment, a killing machine sent from a distant future, or maybe a metaphysical aberration born from a collision between rusted pieces of scrap metal? Nobody knows for sure, but all witnesses agree on one thing : TX-28 is trying to destroy everything that escapes his understanding and, obviously, it doesn't understand anything.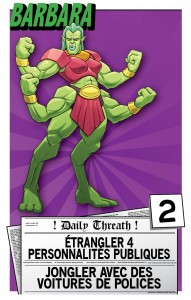 NAME: BARBARA
AGE: 212
GENDER: Feminoid
ORIGIN: Extraterrestrial
OCCUPATIONS: Warrior / Castaway
STRENGHTS: Multiple arms / Colossal strenght
WEAKNESSES: Naivety / Vengeful

DESCRIPTION: Castaway from a distant planet destroyed by Milkyor, Barbara was immediately rejected by humans for her unusual looks. Her good will quickly turned sour and, since that day, her vengeful displays of public violence remain humanly unstoppable.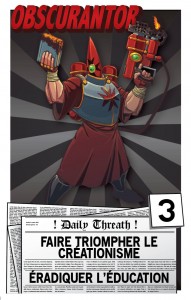 NAME: OBSCURANTOR
AGE: 45
GENDER: M
ORIGIN: Texas
OCCUPATIONS: Cultist / Book burner
STRENGHTS: Unbreakable faith / Massive resilience
WEAKNESSES: Fanatism / Limited field of vision   

DESCRIPTION: Child soldier of an ultraorthodox creationnist cult, today Obscurantor has become the Archprophet of the Church of Napalm and Grand Immolator of the Infidels. He's never seen without his divine armour and holy flamethrower. His Holy War demands a river of blood without any distinction for race or religion, but he especially enjoys burning books and teachers.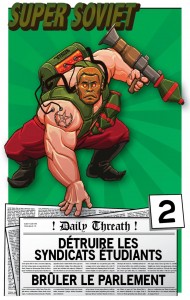 NAME: SUPER SOVIET
AGE: 63
GENDER: M
ORIGIN: Kamtchatka
OCCUPATIONS: Commando / Chaos agent
STRENGHTS: Genetically enhanced body / Advanced weaponry
WEAKNESSES: Mythomania / Alcoolism


DESCRIPTION: His face covered with a Stalin mask welded in place, Super Soviet sees himself as the living incarnation of Mother Russia, ready to annihilate his ennemies and reclaim the glory of the Soviet Empire. As his missiles rain down on public infrastructures and crowds of protestors, he screams soviet hymns at the top of his lungs, overwhelmed by patriotism. Powerful speakers hidden in his mask transmit his excited screams to his bedazzled victims as they cling hopelessly to their scattered viscera.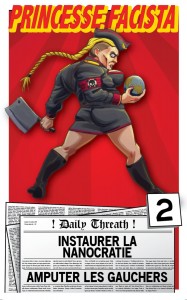 NAME: PRINCESS FACISTA
AGE: 36
GENDER: F
ORIGIN: Hungary
OCCUPATIONS: Paramilitary / Dominatrix
STRENGHTS: Royal blood / Unlimited funds
WEAKNESSES: Small size / Bitterness

DESCRIPTION: Last of a royal bloodline known for its extreme cruelty, Princess Facista possesses unlimited funds and numerous evil plans. She is eternally unsatisfied and filled with bitterness. Facista is ready to do anything to ensure the domination of right-handed dwarves.
Road to New Eden
45$
Tampica

Dernier Épisode

Ext NE: Monde Sauvage

Mojo Samurai

DE Ext: Les Génies
du Mal


WARNING: Except for Road to New Eden (an older version), all our games including extensions are currently only available in french.
The "Terre Sauvage" Exension is not compatible with the english version of New Eden.
Shipping fees are included within Canada, allow 2-4 days for delivery.