New Eden: Helltown
Par Productions Katharsis

Comments Off

on New Eden: Helltown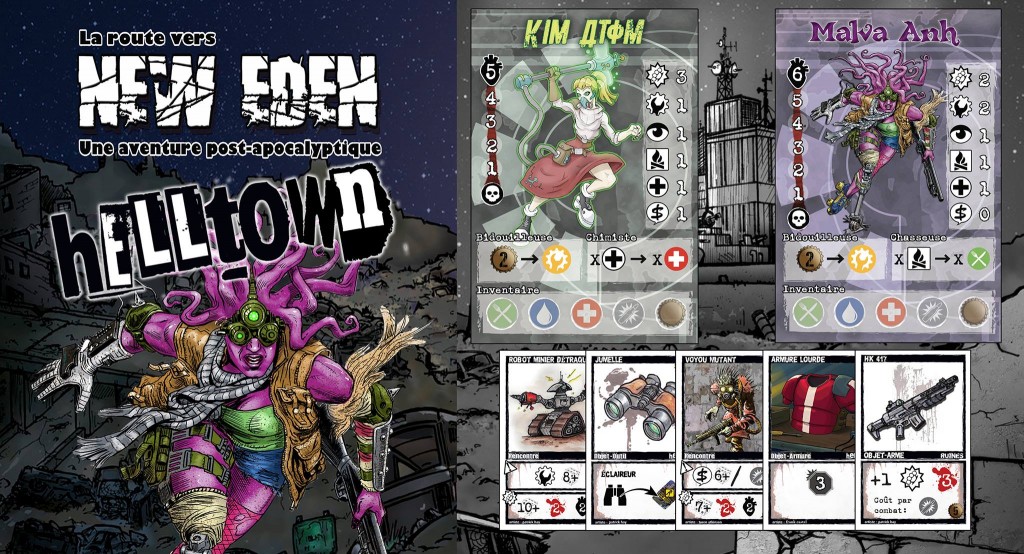 Découvrez les bas fonds d'Helltown!
Helltown is the first expansion for the game "The Road to New Eden" and you'll need the base game to enjoy it. Helltown brings two new characters into the game (Malva Anh and Kim Atom), as well as 30 new cards:
5 Ruins cards
5 Wasteland cards
10 New Eden cards
10 Helltown cards
Tu veux que je te parle d'Helltown? C'est un bidonville grouillant de crapules, construit autour d'une mine de souffre. Cette mine à ciel ouvert appartient à une bande surarmée, les Hellhounds. Certains racontent qu'ils auraient fondé cet endroit. Dans tous les cas, c'est le plus grand marché de la région, tout le monde vient pour y troquer, vendre et acheter. Avec des moyens, on trouve de tout là-bas. Il existe même un casino et un fight club!  Mais fais attention : il n'existe aucun service d'ordre à Helltown, la loi du plus fort gère la vie quotidienne. Ne fais confiance à personne, et surtout ne dors pas dans les rues ; c'est la mort assurée! Le seul et unique employeur de cet enfer est la mine de souffre, un travail dangereux pour un salaire de misère. Je te le déconseille… reste plutôt  ici à chasser le rat avec moi…
Please Note: This expansion is no longer available.
Click on the links below to buy our games!
Shipping fees included for deliveries anywhere in Canada.
Road to New Eden
45$
Tampica

Dernier Épisode

Ext NE: Monde Sauvage

Mojo Samurai

DE Ext: Les Génies
du Mal


WARNING: Except for Road to New Eden (an older version), all our games including extensions are currently only available in french.
The "Terre Sauvage" Exension is not compatible with the english version of New Eden.
Shipping fees are included within Canada, allow 2-4 days for delivery.